A geographic customer relationship management system for all your CRM related tasks
Track Engagements
geoCRM creates a dynamic timeline of all customer interactions.
Smart visual data
geoCRM uses colour visualization to make territory management easier. Helping you to never lose out on sale opportunities.
Analytics and Insights
Using our mobile app you can access customer data wherever you go and turn it into sale opportnities.
We provide a fully integrated cloud based solution.
Access our web and mobile platform from anywhere. geoCRM offers you on demand services and ensures all your business data is securely stored on our trusted cloud storage.
Territory management.
By using smart visual data territory management has never been easier. Colour coded pins assist you too quickly identify leads and sale opportunities. Easily increase sales volume by using geoCRM maps.
View customer sales.
Using geoCRM analytics and insigts have realtime sales data at hand to make more sales driven decisions.
Capture notes.
Be in control of all your customer interactions. Record customer notes, follow up tasks and keep a record of everything that was discussed with a client using geoCRM.
Record Visits.
Using geo-coding we are able to automatically record all customer visits and time spend with customers. Effectively manage your visits by categorization.
Record customer phone calls.
geoCRM's new automated call logging helps create a dynamic timeline with all mobile customer interactions.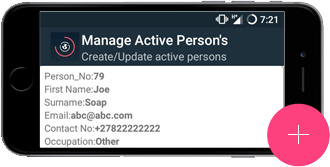 Create a directory.
Add new customers to your marketing database through the geoCRM mobile app and never lose out on a sales opportunities.
Free 30 Day Trial
R150
Sign up
Ideal for single users
Web platform access
Mobile platform access
Map clients
Capture notes
Record visits
Reminders
Record customer phone calls
Dynamic Timelines
Track Invoices
Create customer directory
Manage leads and opportunities
Standard
R349
Sign up
Ideal for organizations
Web platform access
Mobile platform access
Map clients
Capture notes
Record visits
Reminders
Record customer phone calls
Dynamic Timelines
Track Invoices
Create customer directory
Manage leads and opportunities
Team support
Integrated
R499
Sign up
Ideal for organizations needing integration
Web Platform access
Mobile Platform access
Map Clients
Capture Notes
Record Visits
Reminders
Record Customer Phone Calls
Dynamic Timelines
Track Invoices
Create Customer Directory
Manage leads and opportunities
Integrate with your current client base
Integrate with your product list
View Customer Sales History
Personal Customizations
Team support
We can Integrate your data from